Paranoia's Broken Machine – "6​,​5 Διχασμένες προσωπικότητες" stomps its insistent consistency, deep into your brain!
Written by Staff on 9 March 2022
Paranoia's Broken Machine is an electro-punk, experimental and dark electro-industrial project from Athens, Greece. They have released two albums so far. Their latest being, "6​,​5 Διχασμένες προσωπικότητες", which translated from ancient Greek, should read, "6.5 Divided Personalities". Over the course of this latest album, the electronic music project showcases a balanced blend of industrial and EBM, the sounds are unmistakable with its complex synth arrangements, and the somber spoken voice and atmospheric vocals, echoing atop intensely, high-impacting beats, as well as some dancefloor friendly rhythms.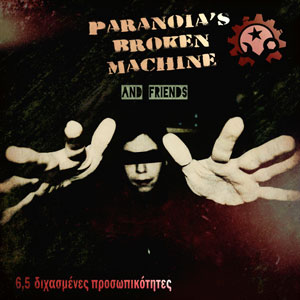 In subject matter and lyrics, Paranoia's Broken Machine seem to have channeled their inner goth for this record. From start to finish, "6.5 Divided Personalities" is awash in morose and cynical poetic prose that expresses discontent, discomfort, and frustration with the state of the internal and external worlds we live in, and as conceived through the media.
Listen to these lines on the opening track "Song For Dead Puppies":  "Ladies and gentlemen. Welcome to the vestibule of a new angelic world. Here the ruined wooden toys of the dead children never spoil. They come back new and fancy on the supermarket shelf, ready to be bought again by your own children. Isn't it fantastic?"
It is from the opening notes of this slow-burning track that we begin to unfold and understand that this album is superb in its ability to paint the picture of the societal collapse we see playing out before us on a daily basis. "Putridity Dynamite" hits harder with a growling bassline and a thumping drum, while the tempo is still held smartly under control.
The lyrical cynicism remains intact too: "Rot causes habit and habit rot. I stink but I'm different, I'm different, so I hope. I hope, because I'm a nothing, among the fucking thoughts of precarious housewives."
Paranoia's Broken Machine turn up the dancefloor energy dial on "Self-criticism In Nothing", as the beat powerfully propels the layered synths. I will see gray sad images on a color TV. I will get angry, I will be sad and maybe I will cry. I will experience life from a representation of stitched images, which are not mine. Mine were devalued at some point in time," sings Paranoia's Broken Machine.
This album will likely make the same impact in your headphones, as it will on dancefloors. It has a variety of dynamic musical cues to engage your senses. "Do You Still Love" also throbs with simmering electro power.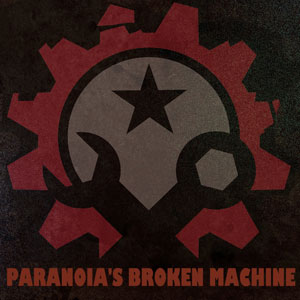 The four to the floor beat stomping its insistent consistency, deep into your brain. "I'm afraid of the rage my pen is transmitting in my moldy but pure soul. My pure soul?" recites the song in closing. Paranoia's Broken Machine excels in creating beats and words that just won't leave our heads.
"Bastardocracy" forges a dirty and crunchy guitar-driven intro, which continues to dominate the song throughout. Though vocally more melodic, it perfectly fits the overall atmosphere and contemplations from the other songs.
Minimal Dog's distinctive voice has the capacity to create highly original and emotionally immersive soundscapes. The album closes with "Summer Night Curse", an ominous and mesmerizing arrangement, which builds its hypnotizing aura on a repeating musical motif, and the sinister lead vocals.
The song "Summer Night Curse" refers to real events experienced by comrade Andrzej Wajda, somewhere in the mid-90s, in Exarchion Square, after consuming Green Dragon. The square is an infamous triangular park known for anti-establishment protests in Athens.
Overall, call it what you will, but the genius behind Paranoia's Broken Machine are absolute masters of their unique craft. The project is also ably assisted by the friends who lent their skills to this recording. Such as, Minimal Dog (Vocals), Erant@$ (Lyrics), Alicia Disorano Livingston (Atmospheric vocals), Toni Asahara (Electric guitar), and Genia Tou Chaous (Lyrics).
---
Reader's opinions
---