Death.wav – "The Fool's Prophecy" – energy, passion and creativity!
Written by Staff on 9 April 2023
It's one thing to be a one-hit-wonder, but to have the ability to release multiple singles and projects is like doing the impossible in the current scene. 21-year-old Massachusetts native, Death.wav is solidifying his spot in the experimental and alternative hip-hop game with a number of epic releases. And the best is yet to come because he hasn't even peaked yet. With every release, he builds off, he gets a step closer to being the talk of the town. What I love most about his music is just the energy, passion and creativity Death.wav brings to every song.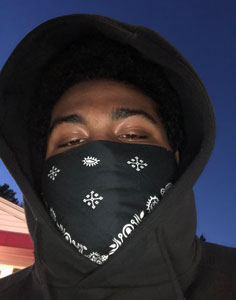 Irrespective of which side of the fence they sit on regarding alternative hip-hop, many fans will appreciate Death.wav's music and will gravitate towards him, because he has real bars, genuine storytelling, and an authentic personality that he displays in his raps. His flow is immaculate and pairs perfectly with his voice and the music. All of which are apparent on his EP, "The Fool's Prophecy".
Right from the opening track, 'Alhamdulilah' ft. Chief Stonzie [Prod. J Nell], it becomes clear that nothing that Death.wav makes is unoriginal, and he is truly in a lane of his own. When he gets on the mic, there are plenty of bars where he doesn't hold back, and is never afraid to say the unthinkable. Based on his advanced wordplay, quotable bars, and ability to create endless intrigue with his rhymes, Death.wav confirms he is in the right career path.
'Shire With Shoulders To Stand' On ft. Greyisdead & Unless Sufrendo [Prod. KIRRI] unfolds a soulful track with trap influences, where Death.wav continues to unfold thought-provoking anecdotes, blending Jesus, Islam, and street poetry effortlessly.
'Riz Ahmed' ft. Mike Ike brings an abrasive and distorted soundscape leaning towards alternative rock tendencies. This will certainly resonate with the new wave listeners. It's only a matter of time until the forward thinking world hops on the Death.wav bandwagon.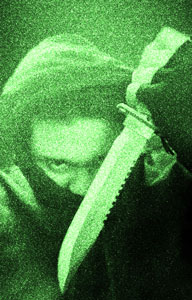 If you're looking to begin your journey into the world of Death.wav rap, then 'Silence, the forgiven Virtue' (Prod. J Nell) is the perfect place to start. Here Death.wav blends classic boom bap influences with lo-fi flavors and conscious lyricism. Once again he shows that knows how to keep listeners engaged in his music by fusing elements, creating experimental sounds and pushing the boundaries of what's expected. 'JESUS SAVE ME!!!!' ft. Higurashi [Prod. Snooze] is another dark and distorted sonic experience that will twist your brain into a knot.
This is followed by 'Most Walks of Life' ft. Allium & Kid Scarz, which is unpacked of a dominant piano-driven beat. Melodic and haunting, Death.wav creates a complete alternative package that far outpaces most of their peers.
Death.wav closes the project with the poetic and ambitious, 'Rakim' (Prod. J Nell). His flow is tight, his voice powerful. Death.wav is a prime example of rap's new wave of experimentalism, a rapper who molds his sound into something unexpected while creating songs that make you want to listen again and again.
The beat and production quality of Death.wav's songs make them stand out from the rest, but it's his lyrics and storytelling that create the most memorable moments for listeners. He's certainly on the rise, and one to watch out for.
OFFICIAL LINKS: https://77.fanlink.to/prophecy01
---
Reader's opinions
---