Cardo Loot – "The Sun Also Rises" is wedded to a relaxed, deep-thinking demeanor
Written by Staff on 18 April 2022
As far as upcoming rappers go, Cardo Loot is one of the finest, shifting into another gear of storytelling and versatility as he alternates between his vibrantly cinematic and laidback sides. He maintains a grounded flow and clear diction throughout his songs, while his understated energy is very immersive and the rich production contributes to a sense of completeness in his releases. Whenever there is a need to express a deep sense of emotion, Cardo Loot's lyricism and flow captures this. Originally from the Bronx, New York, Ricardo Mercado, better known as Cardo Loot, has built a strong reputation as a multi-talented artist.
Quality is never rushed; Cardo Loot knows this better than anyone. After putting his skill to the grindstone, the versatile lyrical savant has graced listeners with his 10-track studio album, "The Sun Also Rises". To no one's surprise, it lives up to the hype and then some. "I'm so excited for the launch of this album which is very close to my heart as it gives a glimpse of my life in the Bronx and the circumstances I grew up in," explained Cardo. "The response to my music has always been overwhelming, and I want to thank my fans who so wholeheartedly support me and my music," he concluded.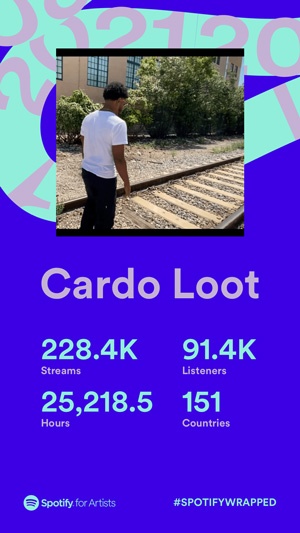 As a rapper he is straightforward yet nuanced and entirely compelling. He moves at his own pace, staying wholly unconcerned with the state of the scene around him. It's his blessing and sets him apart from the pack.  Right from the album opener, "Surface", it's no coincidence that the laidback joints emerge as high points. Cardo Loot's flow and delivery remain immaculate, and wedded to a relaxed, deep-thinking demeanor.
Behind the excellent chill production style that fancies itself with dream-like synths, somber basslines, and airy hypnotizing piano loops is the voice of Cardo Loot. A dominant voice that permeates throughout the project, making Cardo's words not only relatable, but also real, as though he is speaking to a close friend rather than a random listener. This comes through clearly on the back-to-back tracks "Interval" and "Beginning", and even more so on "Jersey.97".
The album is a slow-riding, introspective work that serves as a perfect introduction to Cardo Loot as an artist and as an individual. His highly personal anecdotes comes through on "Brace" and "Scepter", and although rap veterans have done this type of confessional rap before, Cardo manages to stay true to his own roots without sounding redundant, thanks to his creative use of flow, storytelling and wordplay that truly stand out. The laid-back and at times experimental beats are definitely a nice change of pace from the trap heavy sound that has become popular in the last couple of years.
"Remind" rolls in on nostalgic, emotional strings, and skittering hi-hats. Rest assured that lyrical excellence permeates the track. As it does on "When", where Cardo Loot flips his flow into turbo-energy mode. Cardo's lyrical ability continues to elevate. His connection to his own life holds others close to theirs. His storytelling tactics are only tightening. This much is clear on both "Heights" and "Dream".
I could go on talking about the sound of this album and how Cardo Loot's got beats that impress, and how he's got music for the vibers too, but the bottom-line is that "The Sun Also Rises" goes above and beyond expectations, in every department. Which is a serious achievement when you consider where the game is today.
OFFICIAL LINKS: ALL STREAMS – ALL SOCIALS
---
Reader's opinions
---