Dr Jamyz – 'Set Free' captures the EDM scene better than most
Written by Staff on 7 August 2022
It may seem obvious that Dr Jamyz's new single, 'Set Free', would sound like a rave in your headphones. After all, Dr Jamyz is one of the hottest underground producers, and one of the first missionaries in the world to become an EDM artist. Notwithstanding his Gospel influenced slant and scripture-based lyrics, Dr Jamyz captures the EDM scene better than most, because he transforms any musical moment into an electrifying one. Based out of Boston USA and inspired by Alok, David Guetta and Zedd, he released three tracks in quick succession in 2021, and is storming through 2022 with a new track every month.
Intent on delivering a message of hope and love for the younger generation, 'Set Free' encourages partygoers to quit numbing their pain with toxic vices, cut loose from their demons and embrace the love of God. It's all so reliably, faithfully Dr Jamyz, but then again, all of Dr Jamyz's passion-driven projects are aimed at showing that dance music does have a faith and worship side, and he currently stands out as the leader of this movement.
Dr Jamyz's songs and 'Set Free' in particular, sound like sparkling visions of love and faith that would give any other EDM track, spellbinding competition. When most of us enter a club, we envision a place filled with hedonistic experiences, but Dr Jamyz's sees it as a space where he can play the sounds of his faith into the hearts of listeners. Thus, he has a much more visionary and elevated take on what dance music could be, which explains songs like 'Set Free'.
The moment the rumbling basslines underscore the mellifluous female vocals in the opening bars, is the moment when the music of 'Set Free' strikes your spirit, and you wonder if this music has always been a part of you. The percussion comes crashing in to unleash a thumping momentum and sweeping synths, which makes you want to raise your hands and touch the sky.
Dr Jamyz makes music that brims with optimism, to make you see that when you are moving carefree, you are more open to experiencing life as something positive. A pulsating bliss, 'Set Free' appeals to both the body and soul. It is a devastatingly addictive dancefloor jaunt guaranteed to delight on repeat time, and time again.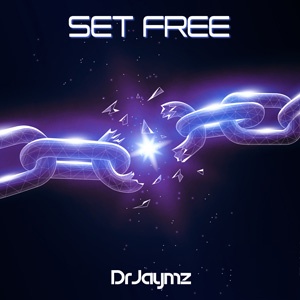 We wanted to tell a redemption story about a lonely girl who realizes that a lifestyle of partying and drinking only worsens her pain," explains Dr Jamyz. "She then cries out to God above who responds by un-breaking her heart. As she embraces this newfound light, she is set free from all her demons," he concludes.
Dr Jamyz's latest single, 'Set Free' is nothing short of excellence, allowing dance music the devoted lyrical sophistication it has so stubbornly ignored. As Dr Jamyz's cool, calculated dance vibrations bubble underneath, the featured vocalist's smart-pop sensibility lifts the track and creates something melodically hypnotic. The singer is undeniably comfortable, delivering powerful blasts of positive affirmations. The result is a celebration of the art of collaboration.
'Set Free' has all the elements of an obvious smash that ought to echo across dance floors far and wide. It resonates with an uplifting, celebratory aura that feels entirely classic from the very first play. Moreover, it slides in perfectly with all Dr Jamyz's other pulse-raisers delivered over the past year.
OFFICIAL LINKS:
Instagram: https://www.instagram.com/drjaymzig
TikTok: https://www.tiktok.com/@drjaymz1
Facebook: https://www.facebook.com/drjaymz1
VEVO Channel: https://www.youtube.com/channel/UCpM0zMEo0X1EK1IZ9T27SZg
Website: https://drjaymz.com
---
Reader's opinions
---