Kevin Land Band – "You're Doing It All Wrong" – There's a depth to the writing, melody and composition
Written by Staff on 23 October 2022
The brand new single, "You're Doing It All Wrong" by the Kevin Land Band is authentic and organic, bouncy, witty, classic, and classy, all at the same time. A mixture of sharp songwriting and adventurous alt-pop and indie-rock production, is blended with memorable lyrics and melodies to collect most of the winning stylistic evolutions that the project proposes. Kevin Land Band hails from Long Beach, CA. Kevin Land began playing music in high school and has always treated music practically and spiritually. His goal is to release original music full of positive energy to those who hear it – even when a lyric is sad. The Kevin Land Band project, which came to a standstill during the pandemic, has continued to expand, and in 2022 emerged with three new members are in the group: Mat Verderosa, Brian Narvy, and Chelsea Velasquez.
Kevin Land's voice is the centerpiece of "You're Doing It All Wrong", placing his nuanced expressions and memorable melodies at the forefront. His vocal hooks and one-liners sensibly and unpredictably weave their way in and out of elevating chord structures. The track is the musical proof that four-minute indie-pop songs can be, not only refreshing, but substantial, and much of that proof lies within Kevin Land's impressive songwriting.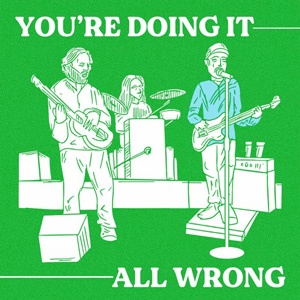 Kevin Land makes use of each syllable to contribute to the sustained pace of "You're Doing It All Wrong". Melodic excellence aside, Land's lyrics are dense yet literal. Self-critical wittiness is packed into seemingly every inch of space, and nothing feels clichéd or trite. Unlike some of his peers, Land's lyrics are not obscure to the point where no meaning can be gleaned from them. They're never shrouded in a cryptic nebulous haze. On the contrary, they are transparent, easily relatable and always worth pondering over, for an even deeper meaning.
Over swift dynamic drums and an acoustic-driven strumming pattern, the Kevin Land Band fill in the vibrant colors with rolling basslines, warm sweeping keys and fiery guitar solo. Not satiated by the sonic goodness, Kevin Land exceeds expectations by throwing in richly layered harmonies to round off a satisfyingly joyous listening experience, regardless of the biting introspective narrative.  The Kevin Land Band brings brilliant contrast to the table, in the way that the record's lyrics juxtapose its instrumentation.
"You're Doing It All Wrong" shows that Kevin Land's musical and songwriting assets exist on a wide spectrum. He isn't limited or confined to one idea within a song. Instead, he is bursting with ideas, so between lyrics, harmonies, melodies and musical motifs, he lays them out in a beautiful, well-crafted assemblage. The result is a masterful and timeless song that beams with a vitality, which transcends any genre boxing.
The most impressive quality of "You're Doing It All Wrong" however, is how much the track grows on you after every listen. There's a depth to the writing, melody and composition, that isn't heard in very many other places in the music industry right now.
OFFICIAL LINKS:
Website: https://www.kevinlandcreative.com/
Apple Music: https://music.apple.com/us/album/blue-windbreaker-single/1521670293
Spotify: https://open.spotify.com/artist/7KjT0D6rY3rlQWbtik7iOM?si=MZJU6sldShCiEOdOWsEw1A
Instagram: https://www.instagram.com/kevinlandband/
YouTube: https://www.youtube.com/channel/UC36090S9v-z98xCz1rhgSgQ/featured
---
Reader's opinions
---