Kevin Patrick McGowan – "Right Kind of Town" – backgrounds don't determine futures
Written by Staff on 12 December 2022
The single, "Right Kind of Town" by Kevin Patrick McGowan, was released on December 3. "This song has a wee story to it," explained McGowan. He was recording, co-writing and co-producing an album for another artist. On a daily basis, they would come into his studio with the songs they had written the previous night and then decide which ones they would use. One of the co-writers brought a song to the table, which was about mocking the working class background Kevin Patrick McGowan had come from, and bringing down working class people and towns.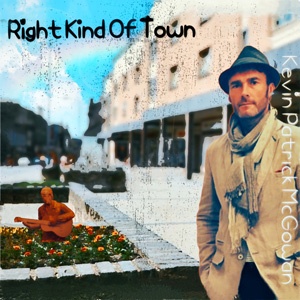 "I was raging inside, I told them under no circumstance did I want anything to do with a song like that," says McGowan. "My response was to go away and write a song called "Right Kind of Town", I was going to offer it for the album but I thought, "No, I'm keeping this one". The song was all about not being ashamed of where you come from, that no one is better than anyone else, and that you can achieve something no matter what problems or disadvantages you have," continued McGowan.
McGowan said that the song reminded him of how lucky he was to come from the background, family, etc. that he came from. He says he learned so many lessons of life on those streets and from the people that frequented them. "Your past can be your best asset," explains McGowan. "It taught me to appreciate the wins and learn from the losses."
MORE ABOUT:
Kevin Patrick McGowan is a distinct, established singer songwriter hailing from Scotland who, despite not being a newcomer in the music scene, is determined to make his mark. As a boy, Kevin was undeniably inspired by the wonder of Jimi Hendrix and his uproarious style, which captured Kevin's eye and got him playing guitar.
From there, he co-formed the band "Coloured Dreams", who gained cult status in the psychedelic underground scene in his hometown and toured Europe many times before splitting up. Kevin then went solo and was signed twice to indie labels, playing all over the world, from the famous Cavern Club in Liverpool to the IPO festival in Hollywood, Los Angeles.
He subsequently established his own record label with a name dedicated to his late idol John Lennon – "Imagine and Believe Studios" and is getting more into the production side of music, as well as performing in different musical set-ups, playing theatre shows, acting, and writing and recording new material. He is a multi-instrumentalist and plays all instruments on his recordings, as well as produces them on his own, in his recording studio.
OFFICIAL LINKS:
https://www.facebook.com/kevinpatrickmcgowan
https://www.instagram.com/kevinpatrickmcgowan
www.tiktok.com/@kevinpatrickmcgowan
https://open.spotify.com/artist/0lmJZPk3TtsYB016FhuOFP?si=5k7covypR4KjS2S2nz8UwQ
https://music.apple.com/gb/artist/kevin-patrick-mcgowan/1487376740
---
Reader's opinions
---