LuhMelly – "In My Head" – ready to make his name known on a larger scale!
Written by Staff on 11 December 2022
Independent rappers are creating some of the most exciting movements in hip-hop. The up comers are simultaneously eating and serving, healthy helpings of lyricism, swagger, banging tracks and star-power to an industry that often gives them crumbs. Indie rappers are in full force and disrupting the idea that only mainstream can reign supreme, widening the talent pool and creating easy access for fans looking for new artists to support. One such talent riser is twenty-two year old LuhMelly. He has been doing music since he was thirteen. LuhMelly sings, raps, records, mixes and masters his own music, while also being familiar with beat production. The ambitious and versatile creative has his sights set on reaching the pinnacle of possibilities by putting in the work and talent needed to move to the highest possible level.
Besides his passion for music, LuhMelly has a 4-year-old daughter and another one on the way, to make sure he has enough reasons to achieve success and stability in life. On listen to his single, "In My Head" shows that LuhMelly has proven himself to be a serious contender in the game.
He quickly highlights his undeniable talent and ability to create with intention. The track is built on a skittering beat and a mesmerizing melodic flow designed to hypnotize the senses. "In My Head" also unpacks LuhMelly's ear for trendy sounds and a skillset loaded enough to push his creative boundaries with each verse delivered.
Beyond his confident, commanding flows, LuhMelly also presents a sensitive pen game able to pick up the nuances of day-to-day living and all of its complexities while trying to get ahead on your grind.  His versatile style and ability to switch flows adds depth to the vulnerable, descriptive storytelling on each release.
Full of wit and innovation, LuhMelly's is only getting started, even though he already has an impressive collection of songs as his foundation for the future. Among them "Ella Quiere Fiesta (She Wanna Party)", for those who love the English-Spanish language blending. Creating songs with creative flair, allows LuhMelly to carve out his own lane as an artist, in what sometimes feels like an oversaturated market.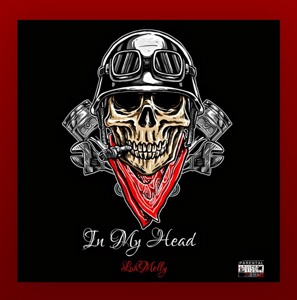 LuhMelly may be newer than some to the hip-hop recording world, but because of his distinct delivery and meticulous songwriting, he is one to watch closely. His musical assertiveness is shaped by his drive and ambition.
LuhMelly has developed his determination along with his skill, both of which can be heard in his releases. He has been channeling his talent for writing, and his natural-born skill for music, into a potentially successful career as an artist. Now, he is ready to make his name known on a larger scale.
"In My Head" offers LuhMelly another opportunity to expand his fan-reach, and on which he proves that his hustle is maintained with pure skill. LuhMelly's smooth flows, captivating rhymes and twisting melodies detail a sonic world built by his own hard work, along with a desire to win and receive the respect he deserves.
LuhMelly has a variety of talents that push him creatively. Moreover, he prides himself on individuality and the ability to think outside of the box, staying true to himself and operating on his own terms. Keep an eye out for his EP, dropping any day now!
OFFICIAL LINKS:
https://www.facebook.com/profile.php?id=100084201879078&mibextid=LQQJ4d
https://www.instagram.com/reel/Cleloejpp0F/?igshid=MDJmNzVkMjY=
https://open.spotify.com/artist/4Bn0l3ed5Jvl9mKhTbHdbh
https://www.youtube.com/channel/UCsVrvsYI0z_slvJLq3GZvaw
---
Reader's opinions
---