The last time we caught up with Ronald Mkiza was during early 2021 when he took us through "Chapter 1: Romance Begins". Although brief, the project was a welcome reminder of the Tanzanian born, and Denmark-based rapper's sprawling capabilities. A year later, the rap extraordinaire is back with his new single, "Burn". The track is much more bolder and expansive than its previously released siblings. Ronald Mkiza's songwriting and ear for word building are as robust as ever, molding together a personal tale of someone striving for a carefree lifestyle in the face of impending dread and emotional trauma.
On the record, Ronald Mkiza recruits vocalist Tien – who has a #1 charting song on Hype Machine – to great effect. In fact, Tien drops a stone-cold killer hook on the chorus, which will stop many in their tracks. The record marries together the foundations of anthemic pop with the kind of harrowing, brutal honesty only found on a lyrically adept rap track. "Burn" warps the listener with slamming vocal motifs and soul-searching notions one expects from a leading rap single. Overall, the Danish-based performer delivers a scorching rumination.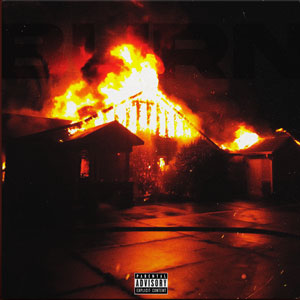 "Burn" sounds like a snapshot of a man who has seen too much, but also a man who strives for much more out of life. Here Ronald Mkiza confronts the issues wedging between him and the world. It's an immersive conceptual piece that proves his wordsmithing. It also highlights how beat selection and feature choices continue to be key weapons in Mkiza's arsenal. At the same time, the rapper's familiar strengths are on full display.
As a whole, "Burn" lands somewhere between concept piece and exhibition, balancing an array of captivating elements. While navigating the narrative, Ronald Mkiza explores and refines the techniques that first launched him.  If a window into anything, "Burn" displays the always-thinking mind of Mkiza. He is a creative and focused rapper, always willing to go beyond the call of duty. He writes straight from his own experiences and the listener is free to relate to it.
Ronald Mkiza's resonant, pointy delivery – complying with a fired-up, wordy repertoire – allows "Burn" to reap into prosperity. Mkiza's enunciation strikes with emotional intensity, both as a general exercise of his rapping style, and when letting poignancy ring into the surrounding thunder of the music. Fans listen to Ronald Mkiza for his clever wordplay, open discussion of issues, and the engaging atmosphere of his flow and the beats he raps on. He comes with exactly those things, plus some introspection, on "Burn".
Ronald Mkiza has clearly made a new priority of taking control of his career, and he's just as thoroughly in command of this track: when the instrumental segues from the soaring melody into the rapped verses, Mkiza doesn't miss a beat. Even within the context of a very crowded scene, Ronald Mkiza stands out. As soon as he opens his mouth, he reminds you that nobody sounds like him, and he keeps you hanging on every word. His storytelling and his delivery are both as unique as they are commanding.
OFFICIAL LINKS:
www.play.mkiza.com/burn  
https://twitter.com/MkizaRonald
www.facebook.com/MkizaMusic   
www.instagram.com/ronaldmkiza
---
Reader's opinions
---