2AP – 'Passing By' was written after one of those "family" mornings…
Written by Staff on 30 November 2022
2AP is a folk rock band, our strengths are songs in duets, original guitar riffs and chord progressions in different tunings seasoned with silky tones of piano and bass. About 'Passing By': Even this song shouldn't have been produced at all and yet in three weeks after it´s release, it is reaching more than 5000 new listeners per month with almost 0 fans at the beginning.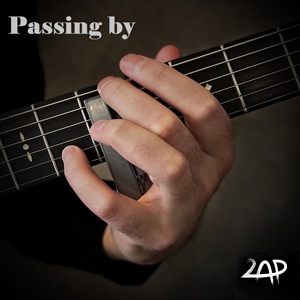 'Passing By' was written after one of those "family" mornings, when… , when everything is passing by… A few hours later I (Jarek H., frontman of 2AP band) took my guitar and I started playing with tuning and capo and even my fingers were passing by before and after my capo, so after a few minutes the main melody with our lyrics idea "Going through or Passing by" was born.
Btw this jumping over a capo became the basic picture of the artwork of our single. I sent this demo to Lenka K. (cowriter, singer and co-founder of 2AP) and she liked it, so she wrote the "women´s" part of 'Passing By' and the song was complete.
In 'Passing By' is something evergreen. You can listen to it many times and still you want to listen to it again. Maybe it´s the guitar riffs or layering of our vocals, or a combination of everything. Either way we are very happy that people like it, and we believe it´s just a starter before release of our LP 'Two Alien Planets' (coming soon).
OFFICIAL LINKS:
Instagram
https://www.instagram.com/2ap.music/
Facebook
https://www.facebook.com/2APmusic
Spotify
https://open.spotify.com/artist/5aSqxUNlAeUZjGEVOfJd8P
Website
www.2APmusic.com
YouTube
https://www.youtube.com/channel/UC7zKbRyLKEH1pH4jqPEQWQw
Where To Buy Music
https://www.amazon.com/music/player/albums/B0BK9PVYSL?ref=sr_1_1&keywords=Passing+BY+2AP&crid=3HJZUES44JIYZ&sprefix=passing+by+2ap%2Caps%2C192&qid=1668426802&sr=8-1
---
Reader's opinions
---