Award-winners SOUTHDOGROCK showcase the depth and breadth of their musical stylings
Written by Staff on 15 January 2022
The most logical way to start any factual narration is usually from the beginning. Therefore, for those still not familiar with the non-profit project, SOUTHDOGROCK, please take note. The southern region of Germany, close to the Swiss and French borders, is home to Florian Döppert (vocals, lyrics, sax, blues harp, keyboard). The SOUTHDOGROCK project was a long-held wish comes true for Florian, who desired to create songs based on his own lyrics and musical ideas, together with a professional producer, whom he found in Frank Schultz, the owner of PRO TON MUSIC. Together Florian and Frank have been writing, recording and releasing a number of songs in different musical styles.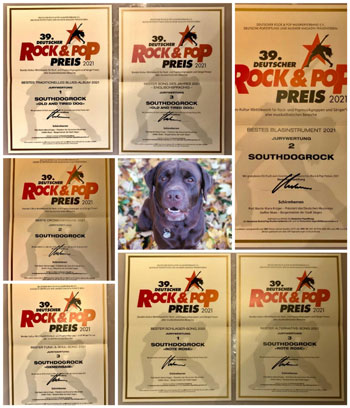 Furthermore, the musicians and singers who lend their professional skills to the project, waive their fees. Their voluntary support is indispensable to the SOUTHDOGROCK project that in turn is able to use incoming resources from sales and fundraising campaigns to cover any production costs and then donate fifty percent to chosen foundations, such as the OFFROADKIDS FOUNDATION, which strives to create prospects for street children and young homeless people in Germany.
SOUTHDOGROCK launched their debut single "Ride With Me" in 2019 and haven't looked back since. The organically driven song boasted crunchy guitars riffs, banging drums and soaring anthemic vocals.
2020 saw the release of the singles "Same Girl With Emerald Eyes" and "The Street", which confirmed the musical and vocal excellence promised by their debut. However, it was 2021, which beyond any shadow of doubt, certified the all-round writing, recording and performance prowess of the SOUTHDOGROCK project.
In 2021 SOUTHDOGROCK released 3 singles, namely "Rote Rose", "Gemeinsam", as well as "Old and Tired Dog". These 3 releases not only swept up a total of 7 awards at the 39th German Rock and Pop Awards for 2021, but they also showcased the depth and breadth of their musical stylings.
Florian Döppert and Frank Schultz led the way together with their collaborators, as SOUTHDOGROCK travelled through the sounds of Neue Deutsche Welle – a genre of German rock music originally derived from post-punk and new wave with electronic influences, on "Rote Rose". The track won the "Best Alternative Song 2021" award.
SOUTHDOGROCK then moved on to blending funky rhythms, jangling electric guitars, and EDM dancefloor flavors on the driving "Gemeinsam", and picked up the "Best Funk & Soul Song 2021" award. The project went ahead and forged all of their gritty guitar-driven blues-rock groove on "Old and Tired Dog", infusing it with rich horns and warm organ motifs.
All of which resulted in the "Best Traditional Blues Album 2021" and "Best English Language Song 2021". As if that wasn't enough, SOUTHDOGROCK went ahead and walked away with the "Best Crossover Band 2021" award at the 39th German Rock and Pop Awards.
There can be no doubt that what started out as a simple desire by Florian Döppert in 2019, has turned into a flourishing award-winning reality, in just three years. The accolades are course shared with Frank Schultz and PRO TON MUSIC, as well as family, friends and all who have supported the project, helping to make the donations possible. Some of the musicians who have been involved in the project include:
Florian Döppert – lead vocals and saxophones
Dominik Göpf – rhythm and lead guitar
Salva Balbo – acoustic and lead guitar
Rolf Goerke – bass guitar
Frank Heider – bass guitar
Frank Schultz – keyboards and programming
Andrea Döppert – background vocals
Ute Brätschkus – background vocals
Jürgen Brätschkus – background vocals
Jürg Weber – background vocals
Production, arranging, recording and mastering at PRO TON MUSIC, Neuenburg by Frank Schultz. Music by Florian Döppert & Frank Schultz. Lyrics by Florian Döppert.
OFFICIAL LINKS:
WEBSITE: https://site.spinnup.com/southdogrock
INSTAGRAM: https://www.instagram.com/_southdogrock_/
SOUNDCLOUD: https://soundcloud.com/user-415602027
YOUTUBE: https://www.youtube.com/channel/UCzrEnn1clUyDit5Dx1tqM-A
---
Reader's opinions
---