Bob Zamida is a creative, passionate, professional producer and musician. All of which is underlined and highlighted on his 14-track album "Apollo". The artist makes it clear from the start of this recording that his art cannot be written into any corner as he consistently switches it up stylistically. His rap and trap infused soundscapes are topped by twisting melodies and bending bars that remain wildly impressive throughout.
The album is expansive but still maintains a cohesive and focused sonic combination. This sound is thrilling, merging Bob Zamida's melodic styles and rhyme schemes together, whilst also pushing towards a futuristic rap aesthetic. There is a lot to love in this rich recording, which increases in meaning and power with more listens.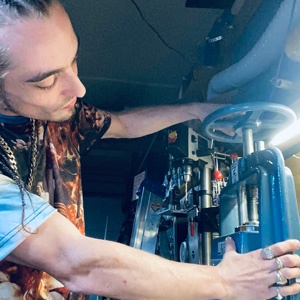 Over the last few years, hip-hop has arguably become the most over-saturated genre in the world. With thousands of rappers and producers emerging each year. The need to stand out from the crowd has never been greater. Only creatively gifted artists such as Bob Zamida have the potential to find a way out of the mud and deliver something that will grab people's interest.
"Apollo" is an album that builds on that aforementioned premise, and will help Bob Zamida stay two steps ahead of the curve. This album instantly marks itself as a diverse and adventurous endeavor. It holds all of Zamida's melodic flair and genuinely intriguing vigor. Branching out into diverse sonic areas, he delivers a series of mesmerizing vocal performances underscored by both thoughtful and slapping production.
Throughout "Apollo", Bob Zamida conclusively shows that his skillset is more diversified than initially thought. He can be thoroughly introspective and haunting one moment, and then confrontational outspoken the next.  His productions make use of shimmering synths, jangling guitars, booming basslines and skittering percussion, for a sound that is resonant and trend setting.
Overall, in "Apollo", the production, the vocals and lyricism are top-notch. It is an album release that never looks to rest on its laurels, instead exploring the wider range of it's musical backdrop, creating an incredibly engaging listen in the process. The album feels like it's on another level compared to many of Bob Zamida's underground contemporaries. Inventive and brimming with creativity, Zamida stands as one of the more impressive individuals to have emerged in recent years.
OFFICIAL LINKS: INSTAGRAM – SPOTIFY
---
Reader's opinions
---