Craig Redmond is a long time student of the Arts and has studies acting and Drumming for the Past 40 years, along with singing, song writing, and painting; His band C-Dreams has played in many places across the Tri-State area, such as the Summer Festival, Street Fairs and private parties. C-Dreams have an Old School feel for all ages to enjoy. The style of music is eclectic, ranging from Gospel, Jazz, R&B and Rock & Roll.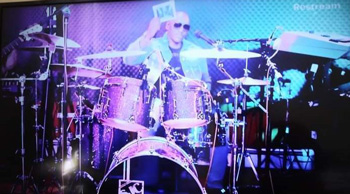 In 1987 Craig was blessed to be the lighting Tech for Bruce Springsteen. Completing his self-produced sophomore album entitled "Combination"; which precedes his first self-released debut CD entitled "Momma's Love". The second CD has a diverse feel to it, with Reggae, Gospel and Latin music in an instrumental genre.
C-Dreams Band/Entertainment was established in 2002 providing a live band. He also is a DJ, Motivational Speaker and Drum instructor. Some accomplishments include being a graduate of "Leadership of Paterson" in 2005, taking the Power Play Drum Line to the World Famous Apollo Theatre in Harlem NYC in March of 2009, performing at the N.A.A.C.P. awards ceremony in November 2001 and again at the Foregates County Club for Y.M.C.A. of Paterson Youth Award Ceremony October 2011.
He has performed with such acts as George Benson, Angie Stone, Tevin Campbell, The Clark Sisters, and many more. He has established a free yearly Drum Clinic Workshop, which is currently in its 24th year and counting.
OFFICIAL LINKS:
Instagram
https://www.instagram.com/craig_redmond18
Facebook
https://www.facebook.com/craig.redmond.35
Spotify
https://open.spotify.com/artist/28494h9i6qmjDbBiqnyMeD?si=Lq8qQ73KT5eutpVBT4jZTw
Website
https://www.cclearproductions.org/
Soundcloud
https://soundcloud.com/user-559754931?utm_source=clipboard&utm_medium=text&utm_campaign=social_sharing
Youtube
https://www.youtube.com/channel/UChviZ6rvBaoQSR-w23r9HuQ
Where To Buy Music
Website, Spotify, YouTube, Soundcloud
---
Reader's opinions
---