INTERVIEW: Meechie Stacks wants to create whatever he wants, and reach a wide audience!
Written by Staff on 15 March 2022
Meechie Stacks is a rapper from Cincinnati, Ohio. His music is a contemplation on today's youth culture, youth itself, wealth, and many other philosophical themes.
Can you tell us a bit about how you got started in the game, and when you began to take it seriously

?



Meechie Stacks: I started off battling with my friends in school and eventually started recording as I got older. I started to take it seriously after going to a label meeting and seeing what it would take to succeed.
Do you handle both the songwriting and beats on your songs, or do you collaborate with different producers?



Meechie Stacks: Both I have some songs where I write everything and produce my own beats but I also like to get ideas from other artists, and writers. Most of my songs are produced by other producers.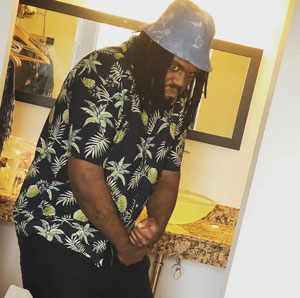 Who were your first and strongest musical influences that you can remember, and who are you listening to right now?
Meechie Stacks: Michael Jackson, Snoop, Too Short, Kanye, 50 cent, Lil B, Lil Wayne, Kid Cudi and DMX are some of my first and strongest early influences. Lately I have been mostly listening to Uno, Kanye, Tisakorean, Bear1boss, and TuFou XoMu.
What do you feel are the key elements in your music that should resonate with listeners?



Meechie Stacks: The vibes, humor, originality and variety. I try to make music that you can play and take your mind off some things maybe take the edge off some. Crack a smile dance etc.
For most artists, originality is first preceded by a phase of learning and, often, emulating others. What was this like for you? How would you describe your own development as an artist and music maker, and the transition towards your own style?



Meechie Stacks: I definitely have had phases of emulating others. I recorded dozens of songs when I first started recording trying to emulate artists like Wiz Khalifa, Lil B and Max B. As I got older and became more serious about it, I realized that I have to be myself to the fullest unapologetically and find my own sound to really connect better with my own audience.
What's your view on the role and function of music as political, cultural, spiritual, and/or social vehicles – and do you try and affront any of these themes in your work, or are you purely interested in music as an expression of technical artistry, personal narrative and entertainment?

Meechie Stacks: I record a lot of reference tracks, so I have a lot of unreleased music that touches on things like politics and society as a whole. I don't release these songs just because I do want to keep my music fun and more driven towards entertainment. I feel like being too political can sometimes cause problems for artists. I also feel like it's not my responsibility to try to save the world with my music. Plus releasing fun songs has still affected people's lives and I've been told my music helped people get through depression and hard times.
Do you write a song with current musical trends, formulas or listener satisfaction in mind, or do you simply focus on your own personal vision and trust that people will empathize and vibe with your sound?



Meechie Stacks: It varies. I usually go with the flow of the beat. Feel the beat out I might mumble a whole song then go back and make the sounds into real words. Or I might punch in line for line and craft the song on the spot.
Could you describe your creative processes? How do usually start, and go about shaping ideas into a completed song? Do you usually start with a beat or a narrative in your head?
Meechie Stacks:  I like to relax and play beats. Once I find a beat that I feel like I want to do I load it up. Then I like to punch in line for line. Sometimes I might freestyle the whole thing sometimes I might do a hook and let it sit for a while and come back to it. It depends on the beat and situation.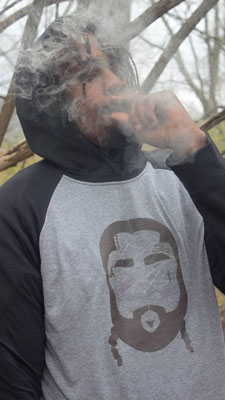 What has been the most difficult thing you've had to endure in your life or career so far, and how did you overcome that event?



Meechie Stacks: A lot of things. I've lost everything, slept outside, slept in cars, starved, lost friends, lost relationships. I overcame all of that by remaining positive the whole time and being persistent. Believing in myself and learning from my mistakes as I went along.
On the contrary, what would you consider a successful, proud or significant point in your life or career so far?
Meechie Stacks: Working with artists that I listened to growing up such as Lil B, Kurupt, and DMC. Also things like releasing video games and books. All of these things were dreams of mines as a kid so doing it now is very fulfilling.
Putting aside any accolades or criticisms that fans, the industry, or the media may afford your persona or music, is there anything about you or your music, you think people may overlook, underestimate or misunderstand at all?
Meechie Stacks: I think my music is very misunderstood. I think sometimes people look at music in too serious of a way. To me music can be serious it can be sad, fun, or educational. Music is multidimensional and the only way we can keep pushing it forward is by trying new things.
Do you think is it important for fans of your music to understand the real story and message driving each of your songs, or do you feel everyone should be free to interpret your songs in their own way?



Meechie Stacks: I think everyone should be free to interpret my songs in their own way. Everybody is different so I think everyone is entitled to their own opinion
With social media having a heavy impact on our lives and the music business in general, how do you handle criticism, haters and/or naysayers in general? Is it something you pay attention to, or do you simply ignore?



Meechie Stacks:  I mostly ignore it. I usually turn the comments off on all of media. I also have other people run my direct messages and inboxes for me on my social media so I don't really see much hate.
If you had a choice to collaborate with any acclaimed international artist or producer right now, who would you choose, and why?
Meechie Stacks: Probably Kanye or Wiz Khalifa. Kanye for the beats and Wiz for the Khalifa Kush.
Could you tell us something about your latest project?
Meechie Stacks: My latest project is titled Uncle Meechie. It's a gonna be a series so this is the first edition of it. Its mostly old songs that I've been wanting to put out as well as a lot of the singles I put out all on one album. I wanted to give my fans something that haven't heard and also put the singles that many already liked but some might have missed.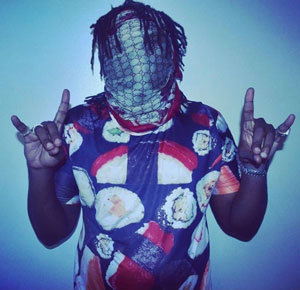 Besides your latest release, do you have a personal favorite track amongst those in your catalog that has a specific backstory and/or message and meaning very special to you, and why is it so?



Meechie Stacks: Right now my personal favorites are Pootie Tang and Plug Just Called. I like Pootie Tang because I feel like it's something that hasn't been done yet which is a song with no sounds no beat just vibes.
Creative work in studio environment, or interaction with a live audience? Which of these two options excite you most, and why?



Meechie Stacks: Creative work. I've done a lot of shows but I don't enjoy them as much as I used to.
Do you have a favorite motto, phrase or piece of advice, you try to live or inspire yourself by

?



Meechie Stacks: Stay Positive
How essential do you think video is in relation to your music? Do you have a visual you could suggest fans see, to get a better understanding of your persona and craft, or will you be working on something new soon?
Meechie Stacks: The Plug Just called video I out I will be releasing a part 2 to finish the rest of that story soon.
What do you find most rewarding about what you do? And do you have a specific vision or goal set in your mind that you would like to achieve in the near future?
Meechie Stacks: Being able to do what I want create whatever I want and reach so many people. I have met and helped young artists from other countries. I also have learned a lot from my audience. I'm very grateful for all of this much love.
OFFICIAL LINKS: YOUTUBE – SPOTIFY – APPLE MUSIC
---
Reader's opinions
---