Veteran singer/recording artist Michelle Ayers, known for dance hits "Share My Love", "Joy", and her biggest hit "Respect" (remixed by David Morales) is blazing back on the music scene with a new dance single, "Fast Steppin." The original being a dance track mixed by Shawn "Morpheus" Waters. "Fast Steppin'" (released on AceBeat Records) is an upbeat house track filled with jazzy guitar and keyboard flourishes, a tight drum groove upon which Michelle's sweet soprano floats and rides with the rhythm of the beat as the backing vocals command the listener to get up and dance.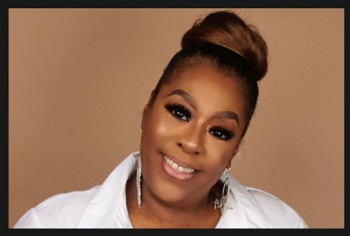 Michelle is excited about "Fast Steppin'" as she feels that folks are ready to go out and get their groove on after two years of pent-up frustration no thanks to the COVID pandemic. "After all we've been through (with the pandemic), we need to dance," she states. "I (think) about roller skating (when hearing "Fast Steppin'") and it just made me happy…I want to do some happy music so that the music can do for the world what it has done for me! I want the world to get up and move!"
A native of Newark, NJ, Michelle blazed the charts and shared the stages with greats from the Manhattans to the legendary Teena Marie and Joselyn Brown. Focusing on motherhood had her place her music career on hiatus, then a shift towards hosting an iHeart Media's Power Me Up Radio & TV series, "New Artists Meet The Pros" – a show where young artists get to sit at the feet of producers, recording artists and other industry professionals to ensure that they understand the working of the music business.
Ayers is thrilled to return to the scene with "Fast Steppin'" and is planning on recording more songs soon. "I am back in the music business because the music came back up in me," she exclaims. "'Fast Steppin' is just the beginning. This next go 'round, we're gonna dance the night away and then let the music play!"
OFFICIAL LINKS:
Spotify: Michelle Ayers
Website: Www.IamMichelleAyers.live
Where To Buy Your Music:
https://unitedmasters.com/m/6290108e6dd142740093262bmichelleayersmusic
---
Reader's opinions
---