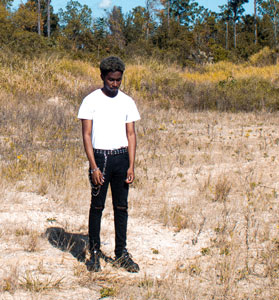 SINNITEE is a black 21-year-old experimental electronic artist from Jamaica, currently residing in Florida. They currently operates their brand/label called CYBERPOLLUTION, which they recently launched alongside their album "Chaos Angel: Chaos Theory" on January 1st of 2022.
SINNITEE, who does all of their own cover artwork,  works frequently alongside artists such as Drew Nevaeh, and Knives & Fangs, which are all a part of their label.
SINNITEE has been making music since 2018 and has recently seen a rise in listeners, mainly on Spotify since the start of this year. Their earliest releases are now only available on SoundCloud, while their newer releases are available worldwide on all streaming platforms.
SINNITEE was born in Montego Bay, Jamaica, but in 2015, moved to Florida where they taught themself how to make music using FL Studio from inspiration, and from fellow musicians, often experimenting with synths and variations of bass.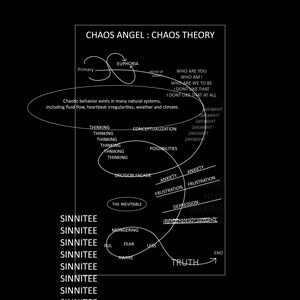 Their early releases feature a multitude of 10 track SoundCloud projects such as 'KELP$HAK3', 'Venus', a shorter EP called 'Mercury', and then a longer 17 track project called 'Pluto', amongst others.
SINNITEE's first official release was a 10 track synthwave album called "ULTRA", released in 2020, which would then be followed by their 13 track album, "Nowhere Forever", a year later in 2021 with an abundance of singles in between as well as 2 EPs exclusively on Spotify called "PIRACY" and "Crystals".
Upon the beginning of 2022, SINNITEE released a 17 track concept album titled "CHAOS ANGEL:CHAOS THEORY" alongside the opening of their CYBERPOLLUTION website (www.cyberpolluted.world).
CYBERPOLLUTION itself is a label/brand featuring musical artists such as SINNITEE, Drew Nevaeh, Knives, Fangs visual artist "Sacugar", podcast host "U-FAK" as well as jewelry maker "JHADED".
OFFICIAL LINKS:
Instagram: www.instagram.com/sinnitee
Twitter: www.twitter.com/sinnitee
Website: www.cyberpolluted.world & www.depop.com/shopjhaded
---
Reader's opinions
---