Every aspect of the music came together perfectly on the album "Only Me" by King Ap3. The beats are engaging, the rapper's energy is high, his flow is sharp, and best of all, his lyricism is on point. When King Ap3 raps, there's never a dull moment. He is either giving you a passionate, fast-paced combination of bars, or he is calmly reflecting on his past struggles, his aspirations, as well as daily journey throughout life. Either way, you'll enjoy the relatable and well-constructed verses. Every song is a well-illustrated description of the topic at hand. As a whole, the project is a consistently satisfying listen from start to finish.
The album opens with the mid-tempo title track, "Only Me". Its verses are full of energy, with a hard beat and attention-grabbing bars. It is not only catchy, but it is also an effective way of conveying King Ap3's message. It's the type of song that motivates you to work towards achieving a level of success in your circle. The rapper shows off his skills on the mic in a way that is convincing and original. He uses a poetic rhythm, to go along with internal rhyming.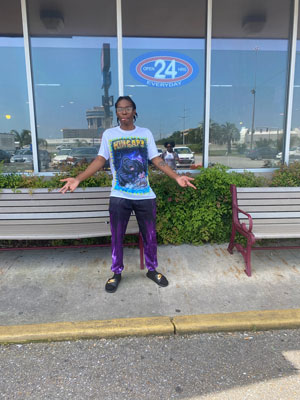 All throughout the album, King Ap3 actually shows why he is one of the more interesting new school rappers, with his slant for solid storytelling. Nothing is more satisfying than when a rapper can back up their hype with skill. And that is what King Ap3 achieves on "Flex It Out", as he shows off his shine with the ladies.  He continues with his braggadocio attack on "Running Shit", proclaiming his supremacy. He comes across as a classic rapper with contemporary appeal.
Its clear King Ap3 is built differently from most of his peers. "No Excuses" with its hypnotically beautiful keyboard and vocal sampling, is a riveting piece of soul-searching storytelling. His raw honesty makes you feel like you have a personal stake in King Ap3's personal story; a rare skill for a rapper to possess, but one that suggests we're dealing with an artist that will have real longevity. It's an endearing track about the relationship between a father and daughter.
Though "Red" slaps, while riding on an infectious groove, this isn't an album for fans of chaotic trap and moshing, but one that is designed as something for you to sit back, take in and vibe to, and understanding this will be key to how much you enjoy the journey. King Ap3 delivers a style of rapping that combines old school and new school in an unexpected way. He brilliantly blends together all those disparate elements on the closing track, "Danger".
Needless to say, King Ap3 knows exactly where he stands in the rap game. He knows he has a unique style for these times, and is not afraid to show it off. Every rhyme, every beat, every song title is intentional and specific to the album's aim. All the verses sound crystal clear, and all the beats glow with zest. "Only Me" is a great introduction into King Ap3's world.
OFFICIAL LINKS: YOUTUBE
---
Reader's opinions
---