Tomorrow's Fate musically flex their muscles on "Appreciate The Time"
Written by Staff on 5 September 2022
"Appreciate The Time" is an album packed, and I mean packed with absolute alternative rock bangers. One after another you get sucked right into the addictive songwriting of Tomorrow's Fate. Their beautifully vibrant, gritty, yet melodic style just grips you from start to finish, and you'll find yourself twelve tracks in, wondering where the hell did the album go? These guys have a fresh yet retrospective style that allows their anthemic-infused rock to flow effortlessly across the album. There is clearly growth here, between their 2021 singles – as newcomers from Styria, Austria – "Son come Home" and "Don't Forget To Rock", and their latest offering.
It's great to watch Tomorrow's Fate flourish and grow as they musically flex their muscles moving across "Appreciate The Time" – an album release made possible by the collaboration between Rock Of Angels Records and NRT Records. If you're lucky enough to listen to this album, you can say you got In on the ground floor with one of Austria's finest alternative rock exports. The four-piece outfit consists of frontman and bassist Benjamin Künstner, guitarist Manuel Rojak, singer and guitarist André Reiter, and drummer Manuel Wallis.
The album "Appreciate The Time" was produced, recorded, mixed and mastered by Nino Markgraf at Abnormal Audio Assault Studios, while the logo and artwork were curated by Brainsworld Agency GmbH. "My Way" is a convincing alt-rock track, a grand opening to what follows, like the curtains being drawn, exposing a stage that is set for a grand show. "Fly" solidifies their sound in the form of a superb anthemic track driven by passionate vocals and a chugging rhythm.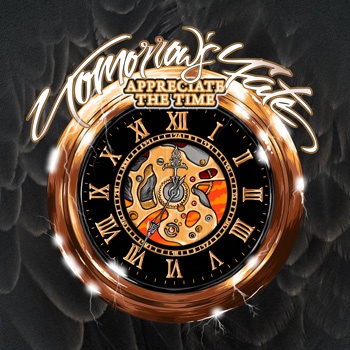 "Sweet Little Honey" maintains the crunchy guitar-driven momentum and introduces catchy vocal hooks. The vocals take center stage on "Be Human" which soars in the choruses.  The group's music is even more grandiose on "Don't Forget To Rock" which is built around big hooks seemingly designed to reach a wide audience. "My World" oscillates between muscular bombast and soulful ache. Grinding guitars combined with an expansive vocal melody lead to a song where we trip the light fantastic to the beat of our spiraling minds.
Punchy drums and twanging guitars drive the ever-changing momentum of "Son Come Home", before the high-powered rumble of "Way Back Home" sets in. In an instant, with a clamor of melody and an incessant rock rhythm, Tomorrow's Fate set the bar extremely high. It's crystal clear that this is music with wide-ranging appeal. "Integrity" is spearheaded by the soaring vocals, which sound better than ever, alongside driving guitar and drums making for another exciting listen. The song exciting, catchy and absolutely massive.
Moving onto "Humming Birds", we are met with both a distinctive drumbeat and a captivating bassline, before we are ushered into an influential chorus with high rising vocals. This brings us to the title track, "Appreciate The Time", which is filled with jangling guitars and resonant basslines. If you're not impressed already, "I Won't Leave You Alone" will undoubtedly change your mind. This closing tune perfectly complements the band's vocal abilities and shows just how powerful and controlled the lead singer's voice is, making it sound like an anthem intended for arena performances.
Throughout "Appreciate The Time", Tomorrow's Fate dance between styles and tones in a way that feels effortless. There isn't a single moment that feels forced or out of place, which gives the band space to not only explore their sound and push boundaries, but also room to write songs that will surely resonate with a vast majority of fans.
With the release of this album, the Austrian four-piece band delivers rock thunder, immediately capturing our attention with mesmerizing vocal performances and a sturdy musical foundation. "Appreciate The Time" does not just highlight the current abilities of Tomorrow's Fate, but also serves as a declaration for future aspirations and goals.
OFFICIAL LINKS:
► Official Website: https://www.tomorrowsfate.com
► Facebook: https://www.facebook.com/tomorrowsfate
► Instagram: https://www.instagram.com/tomorrows_fate/
► Free Audio & Link to Streaming services: https://bfan.link/appreciate-the-time-1
---
Reader's opinions
---