Singer, Songwriter, Song stylist LYIA META releases new EP "YOU THINK ABOUT ME"
Written by Staff on 14 February 2022
"She's now back with a new five track EP co-written with Nashville based Bob McGilpin and she's not taking any prisoners." BluesBluesU.K
Lyia Meta starts 2022 with a new EP, 'YOU THINK ABOUT ME' bringing you her unique soulful sound. A collaboration with producer and songwriter Bob McGilpin, who himself as an artist held three number 1 Billboard singles in his career,  Meta both co-writes and co-produces with McGilpin, bringing listeners a touch of old school R&B, Soul, Blues  and a touch of Funk that's bursting with her signature earthy, powerhouse vocals.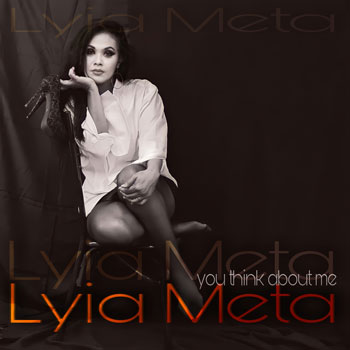 Meta recorded the album working through different time zones between Nashville, TN, U.S.A with her vocals recorded in Kuala Lumpur, Malaysia.  YOU THINK ABOUT ME is composed of five gorgeous tracks that showcases Meta's vocals and McGilpin's musicianship. The EP was released on the 31st of January.
"Lyia Meta 's breathtaking voice  unfolds in the listening room and captivates the listener. Sometimes energetic and stormy." eXtreme Magazine.
"You Think About Me is a great little EP that showcases Lyia's amazing and versatile vocal gifts, as well as Bob McGilpin's masterful musicianship, arrangement and production skills. Together, they've crafted a wonderful collection of songs that make for a fun and enjoyable listen." Eclectic Music Lover
Lyia Meta is an international multi award-winning singer and songwriter, and an exhibited visual artist.  Of local Creole Portuguese, she is currently based in Kuala Lumpur, Malaysia. Meta finds her greatest influences in rock and blues, yet she fearlessly defies genre barriers in every project she creates, consistently delivering a refreshing sound that speaks to listeners across generations worldwide.
"In my entire career as a live circuit performer and an artist, I have found that being true to myself and my influences is what makes me  the artist I am . What is uniquely 'ME'?  Who I am is very simply heard in my music and my art. With the EP 'YOU THINK ABOUT ME', it is my way of telling the world – THIS IS LYIA.  This has always been my purpose."
OFFICIAL LINKS:
Website: https://www.lyiameta.com/
Social Media: https://linktr.ee/LyiaMeta
Sales Outlets: https://songwhip.com/lyia-meta/you-think-about-me
Streaming: https://open.spotify.com/album/6poGP0q1W9YYQPu92bYz4J?si=Ill-WctBTDa21XLPyEwdxQ&utm_source=copy-link
Video link: https://youtu.be/e9iLmhdhfvA
---
Reader's opinions
---
Continue reading